A couple of days ago, the wonderful Christy of
Heavy on the Caffeine
bestowed upon me this fabulous award: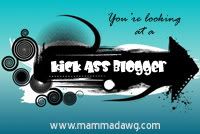 Although she couldn't possibly have known it, because I generally veer clear of the heavy stuff around the Land of Bean, it couldn't have come at a better time. Ever since returning from our trip to Kansas, Sophie's sleep has been unpredictable. Her formerly regular naps, are no longer regular, she's waking up two to three times a night (usually just as I fall asleep) AND she's teething her molars. Put all this together and you've got one very sleep deprived and therefore stressed out mommy. Not to mention, the
cracked skull
she gave me the other day. She hasn't been her usual happy self either, so where normally her waking hours are a relatively enjoyable experience, now they are marked by extended crying jags. Her cries are little daggers in my heart, part painful, part annoying, they cut through me. I've been trying to get out of the house in the morning, when I am the most tired and cranky, leading to a lot of walking and our trip to the Fair the other day. However, at some point you have to come home.
Everything came to a head this afternoon, when after the third day of less than 4 hours of sleep and weeks of not much more, I was mentally and physically done. Neil called to check in, and as I sat on the floor holding the baby, both of us crying, I begged him to come home and watch her so I could get a couple of hours of uninterrupted sleep. The kind of sleep I can only get when he's around, because when I'm alone I'm only half asleep, listening for the baby. I felt like a failure for not being able to cope with one cranky baby, for needing help, but I was stretched too far. To his enormous credit, he left within minutes of that conversation and was home shortly to relieve me.
And I slept. Three sweet, healing hours of unconsciousness. There were no dreams. I awoke to the sound of silence.
Back to that award. As you can see, I needed a pick me up and somebody thinking that I'm special, and not just special, but KICK ASS, was a salve on my shredded psyche. So, thank you again, Christy. You don't know how much I appreciate this. Per the custom, I am to pass this along to 5 bloggers that I think are great. This was a tough decision because I know so many great bloggers, but choose I must. In no particular order, they are:
MEP
- My first "blog" friend, MEP is smart, insightful and funny, NTB. We seem to be living parallel lives, not sure if that makes her very unlucky or super cool.
Maternal Mirth
- M&M never fails to bring a smile to my face. Her "
Why I'm Cranky Post
" is still one of my all time favorites. I go back and read it whenever I need a good laugh.
Merecat
- One of the best writers around, she tackles life with twin toddlers with grace and humor. Her
post
on the effect of kids on your brain is beautiful and touching.
Lula
- Sweet, charming southern gal. All obvious descriptors, but she's also quirky and funny with a hint of a dark side. She also has a little bit of a thing for Jason Statham and Twilight. I love reading her posts everyday.
Damselfly
- She's been something of an award magnet recently, but she's a wonderful writer and her son has the cutest blond curls EVER. I love all of her posts, but her "
What I'd Wear Wednesday
" is always so much fun.
Thanks to each of these ladies for providing me and many others with interesting and entertaining reading and for all of the support and kind words you've given me.